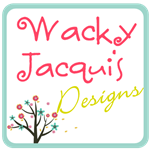 In the coming days, don't be alarmed,
Mrs. Mama Drama's look is about to get some charm!
That's right, folks! Mrs. Mama Drama has won a fabulous blog makeover from
Wacky Jacqui's Designs
. In the coming days, I will have a brand new look that I am very excited about!
Head on over and visit Jacqui for more information about her upcoming giveaways, awesome design packages, and much more! Check out her portfolio which is filled with all sorts of great designs!